What is "fumetti"?

A publishing craze overtook Italy at the start of the 1970's. Digest sized adult comic books exploiting subjects such as horror, crime, fantasy, history and fairy tales. Each series would release 1-2 new issues each month with annual print runs in the millions. They were known in Italy as "sexy fumetti", the word "fumetti" referring to "comic book". These comic book covers usually featured lush eye-popping illustrations by some of Italy's best classically trained artists of the time. They're more edgy and permissive than any other notable genre of pulp art. Their popularity fizzled in the 80's and finally ended in 1993. The publishers are long gone now. But some of the original cover art still exists. Here in the pages of this website you will find some of the greatest works of the genre. So prepare yourself for an NSFW tour.


A super rare collection
It's incredibly fortunate for collectors like me that these paintings survived history. For many other genres of pulp art this is not the case. Most publishers of pulp novels didn't care about their cover art after they were published and would dispose of them or use them as wedges to level wobbly desks. (Actually witnessed!) I've been told by some Italian collectors that a lot of the fumetti paintings did not survive. It's a horrifying thought. Until recently, fumetti art was barely known outside of Italy. Thanks to the internet and publishers like Korero Press it's finally finding a worldwide audience.
The Artists

The masters of fumetti art include Emanuele Taglietti, Alessandro Biffignandi, Pino D'angelico, Enzo Sciotti and Roberto Molino. These artists did not sign their work. The cover artists, as with the interior artists, did not want their names attached to a genre that was stirring up so much controversy
at the time. Identification of the paintings has been based mostly on collectors recognizing artists specific styles. More recently some of the surviving artists have assisted in the identifications.
The main focus of my collecting hobby is to find works done by my favorite artists from the genre.
WHO THE HELL IS MARK ALFREY?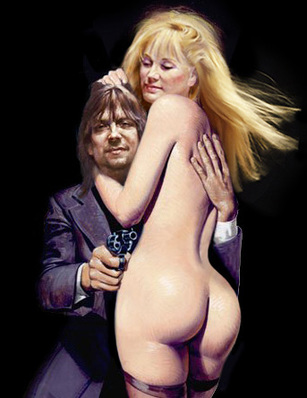 Nobody, really. Just an artist and collector. I worked in the business of movies and television for 18 years during the waning heyday of special effect make-up effects
as a sculptor, designer and occasionally make-up artist. My focus now is creating pop culture related art. If you're interested you can check out my work on
Facebook.
I've spent a few years hunting down these original paintings and have amassed a large collection.
I'm always on a hunt for more of these fine works of art. If you have any paintings from this genre and think you might like to sell, please contact me so we can discuss a deal!
---